Celebrity Baby Scoop: Heidi Klum debuts New Balance activewear line
What a loyal guy. Tony Romo & Chace Crawford Source: Dallas Observer Just because you marry a dude's sister doesn't mean you and that dude have to get along. Fortunately for Tony Romo, though, his wife's brother is a pretty cool guy. The Dallas Cowboys quarterback married Candice Crawford, sister of Nate Archibald Chace Crawford, in May 2011. Ever since, he and Chace have been thick as thieves, mostly because they both seem to be sort of into football. People magazine has reported that the now bros-in-law were "already friends" long before the wedding took place, and in 2011, Romo, Candice and Chace all partied together at the Super Bowl festivities. All were utterly unperturbed by the fact that Romo wasn't involved in the actual game. And that's all that matters. Lance Armstrong & Jake Gyllenhaal Source: E Online Lance Armstrong, at one point in his life, seemed to have a lot of famous friends. Now that he's revealed himself to be the biggest fraud on the planet, that may not be the casebut during brighter days, Jake Gyllenhaal could frequently be spotted at his side. The disgraced cyclist and the actor were often seen working out together (what else would they be doing?) back in the day, circa 2006, cycling through Malibu and taking in the luscious scenery. Strangely, their relationship seemed to fall apart suddenly, apropos of nothing.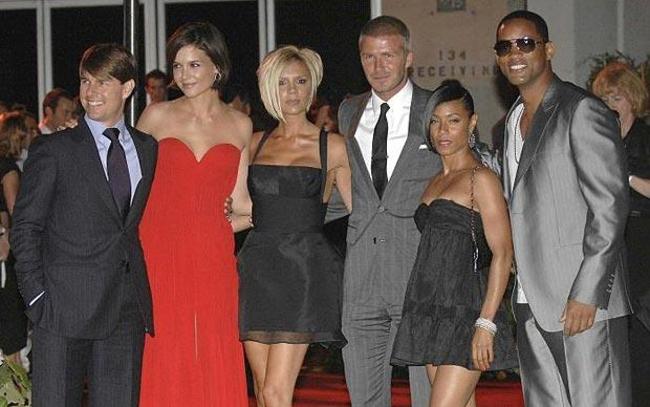 We all sit around a big table and bounce ideas off of each other. I always focus on the look of each piece, because I want women to have workout wear that's really cool and fashionable with the newest technology." Q: You've also partnered with other companies to baby gear, furniture. Do you have a favorite line that you've worked on? A: "They are all special to me. I take each project really seriously and pour a lot of my personal time into making them great. I have a collection with Babies 'R' Us called Truly Scrumptious that I am really proud of. A lot of my inspiration for the collection came directly from my children so this project is definitely dear to my heart. After four kids, I have figured out what works and what doesn't. "This spring, we did a fun Project Doodle contest where kids submitted their own doodles to have the chance to be produced on one of our Truly Scrumptious T-shirts to benefit Save the Children. They're super cute! I also love to find ways to have my projects benefit important causes." Q: How do you keep fit in your New Balance activewear? What is your exercise routine? A: "With my busy schedule, it is impossible to have a set routine. I like to try and incorporate exercise into my daily life whenever I can – which requires some creativity! Sometimes I jump on the trampoline with my kids or take a hike with my dogs in the canyon by my house.